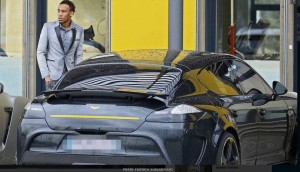 Buckle up , here comes the BVB Batman!
Just last week, Dortmund star Pierre -Emerick Aubameyang ( 24) was flashed at a speed of 74 km / h in a 30 zone. Consequence: 4 points, 200 euro fine and a driving ban of threatening a month.
As long as he still has the license : Aubameyang is now driving the Batmobile !
A 2-1 Test victory against 1 FC Köln was the Gabonese yesterday in a new black-yellow- pimped Porsche Panamera (430 PS / Price : 140 000 euro) with French flag .
The trick is to let Jurgen Klopp's Sprint missile (running the first 30 meters faster than Usain Bolt, world record holder ) apply a self – designtes Batman crest on the trunk lid instead of the manufacturer logos . The type designation of the car has Aubameyang also by its initials , including jersey number . Most recently, the BVB attacker had a shave and a Batman logo into the hair ( season 5 goals) .
At the Cologne test Aubameyang scored the flash guide ( 1:0 / 6 ) , before he was fouled by FC -Star Ujah and had to be short. The second goal was scored by Julian Schieber BVB (2:0 / 22 ) , for FC met Daniel Halfar .