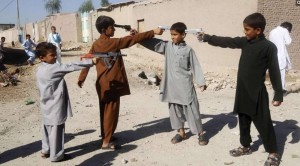 Muslim world celebrates Eid al -Adha , the Feast of Sacrifice . In Jalalabad, a bizarre snapshot was taken.
Four guys playing on a street corner . The game does not look funny. They depend on each other guns and a small gun. Four children, four toy weapons in one of the most dangerous places in the world . The photo was taken in Jalalabad (Afghanistan ) on the first day of the Muslim festival Eid al -Adha , the Feast of Sacrifice.
Traditionally, the children play on the holiday , enjoy yourself – the picture with the weapons is only a looker , a snapshot which arose on this important day .
What is Eid al -Adha ?
The Feast of Sacrifice is the most important Islamic celebration. At the end of the Hajj , the pilgrimage to Mecca , the pilgrims and all the faithful celebrate the Islamic world.
The festival commemorates the willingness of Ibrahim ( Abraham ) to sacrifice one of his sons , to prove his faith God.
It starts on 10 Day of the pilgrimage month – 2013 according to the Christian calendar of 15 to 18 October . On the first day , the faithful gather in mosques , where a special festival prayer is held.
Hot sacrifice for the ritual slaughter ( shafts) is the lamb . Part of the meat is distributed to needy Muslims.