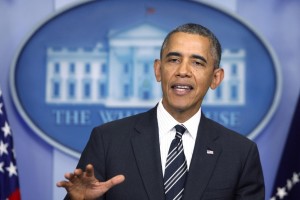 U.S. President Barack Obama has warned the world against the negative financial consequences of the budget dispute in Washington. If it were not present at the usual political wrangling budget, Obama said the TV channel CNBC.
"I think this time it's different. This time, Wall Street should be worried."
Obama referred primarily to the up to 17 October necessary increase in the debt ceiling by Congress. Without raising the U.S. would be insolvent. He also said that,
"If there is a situation in which a group is ready to bring the U.S. to bankruptcy, then we have a problem" Obama said.
That it had now come to his health care reform because of the attack by the opposition Republicans to emergency management, make him "angry," Obama said. It is generally open to negotiations with the Conservatives, but not under these circumstances.
Prior to Goldman Sachs CEO Lloyd Blankfein had said after a meeting with Obama and other business leaders that the consequences of the arrest of the U.S. administration and a possible conflict over raising the debt limit "extremely harmful" are.
Group Plans to Send up to 5,000 Employees Home
The industrial conglomerate United Technologies already explained, at worst, having to send more than 5000 of its employees on forced leave when the "Government Shutdown" detainment until November. 2000 people were already sent home on Monday, 2000 Another well during the week.
United Technologies to include the farmer Sikorsky helicopter, the engine manufacturer Pratt & Whitney as well as the aviation industry suppliers UTC Aerospace Systems. These also supply the U.S. military, such as the Black Hawk combat helicopters. In the manufacture of state inspectors would be present, the group said. The now missing but because the government authorities were paralyzed. Certain productions should therefore be stopped. Currently is completely unclear how long or short the stop. The last "Government Shutdown" 17 years ago lasted nearly four weeks.