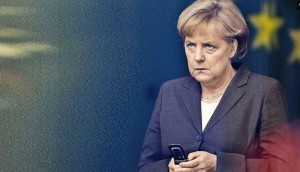 Chancellor Angela Merkel ( CDU) has sharp like never criticized the U.S. NSA , which should have listened to her phone. Berlin – indignation and horror in Germany and Europe over the suspected U.S. eavesdropping on the mobile phone of Chancellor Angela Merkel (59, CDU) !
Apparently over the years the U.S. NSA has the cell phone of the German head of government (Nokia 6260 Slide ) monitors , it probably siphoned off data connection , discussion topics, and SMS.
Code name of the top-secret NSA Department: RAMPART. According to " SZ " the eavesdropping attack allegedly from the U.S. embassy in Berlin was controlled .
Merkel is angry like never before. Before the start of the Brussels EU summit (where they drove calculated with a license plate with the number 007 in front ) she said: " spying among friends – it did not work ! We need trust among allies and partners . Such trust must be restored . "
So clearly Merkel , U.S. President Barack Obama (52 ) has never fiddled the opinion in public!
In Berlin Giant excitement. Foreign Minister Guido Westerwelle ( 51, FDP), told BILD: "It is not proper , and certainly not among friends , or take damage the friendship " .
In the afternoon Westerwelle ordered the U.S. ambassador John B. Emerson for a repeat to the Foreign Office . Under close ally of an unprecedented nature !
Special session of the Bundestag parliamentary control committee , which meets secret !
Participants and Others : BND President Gerhard Schindler and constitutional protection CEO Hans -Georg Maassen . Chancellery Minister Ronald Pofalla (52, CDU), who had declared in August for the NSA affair ended , had to row back . The operation was a " serious breach of trust " must be clarified. Next week is a German delegation to travel to Washington to investigate .
Also, the Federal Prosecutor in Karlsruhe has turned himself wants from the federal all available information – and check investigations.
The U.S. still threatens more trouble : Yesterday evening announced the "Guardian" that the NSA had tapped the phones of a total of 35 top international politicians.
Codename " Rampart " – as U.S. spies have intercepted Merkel cell phone?
Most likely scenario : On her cell phone ( provided by the CDU), a hidden monitoring software was installed ( " Trojan" ) , eg via an "infected " SMS from U.S. intelligence . This Trojan dubbed in real time the complete communication (SMS , phone calls ) to the Secret Service.
Merkel herself had recently told a small group : they did not know exactly whether their phone was being tapped . Therefore they say on the phone always what they declare in public.